Visit the RMS Spring Fling site to register to participate in both auctions, view all available items and join us for the real-time, live auction on Friday, April 23 at 7:00 p.m.
The RMS Spring Fling 2021 is a week-long, online auction to benefit our students and faculty. Join us during the week of April 19-24 and on Friday, April 23 at 7:00 pm for a live auction as we continue this annual event. All event proceeds will go to the RMS Annual Fund. Last year's successful event allowed us to offer $100,000 of tuition assistance to our families directly impacted by COVID-19. The money raised for this year's event will go directly to the Annual Fund for what is needed most by our students and faculty, always with the goal of providing the exceptional Montessori experience for which RMS is known.
SPONSORSHIP
We invite you to serve as a Spring Fling sponsor by completing this sponsorship form. We are offering several sponsorship opportunities, all with amazing benefits and unique options for exposure to our community. New this year, we will create a digital program, distributed to our entire community, displayed online and through social media, to highlight all of our sponsors. Some sponsors will enjoy a virtual cocktail reception hosted by Beth Dixon, RMS parent and owner of Salt and Acid. We hope to have your support!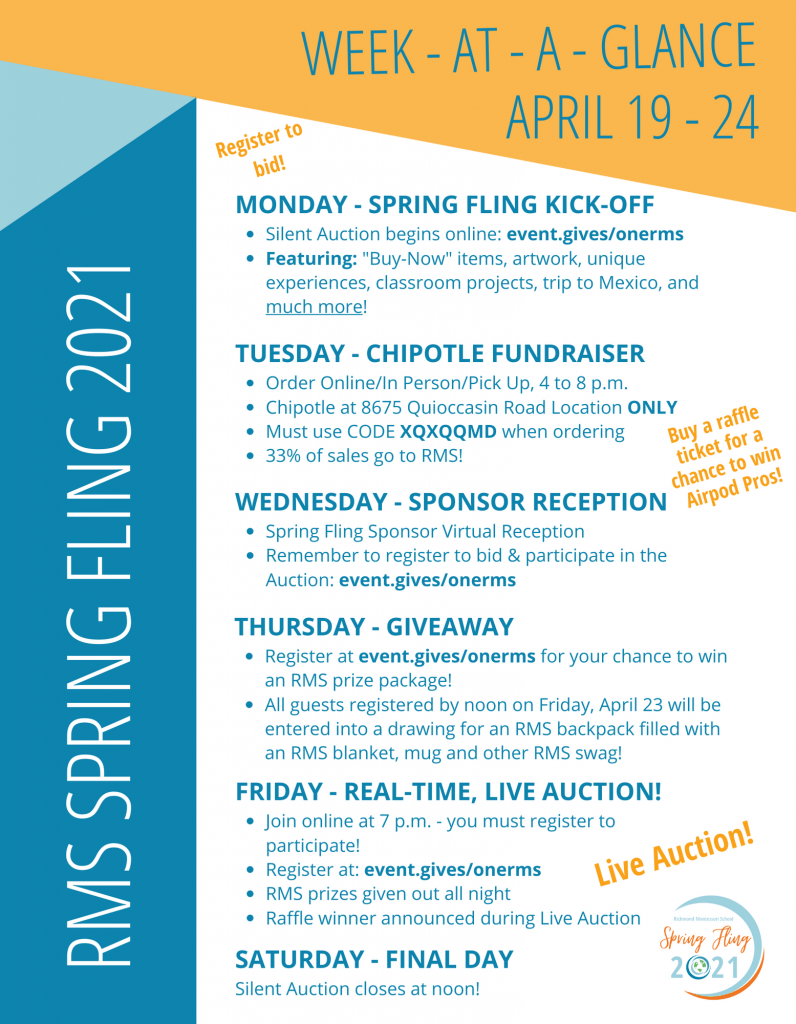 FAMILY NIGHT/CHIPOTLE FUNDRAISER
Enjoy dinner with your family while supporting RMS on Tuesday, April 20 from 4-8 p.m. at Chipotle located at 8675 Quioccasin Road. Chipotle will donate 33 percent of the proceeds to RMS! If you order online or pickup, you must use the code XQXQQMD in the "promo" field. If you order in person, simply tell the cashier you are supporting RMS or show this flyer on your smartphone.
---
REGISTER FOR SILENT & LIVE AUCTIONS
You must be registered on the auction site to participate in both the Silent and Live Auctions.
The real-time, live auction will allow guests to bid and respond instantly. There will be an opportunity to hear from our teachers and students as we celebrate our wonderful school community. There are some fun surprises in store, too!
While the live event is free to attend, we encourage you to register in advance to ensure you are ready to participate in the silent auction and the live event.
All guests registered by noon on Friday, April 23 will be entered into a drawing for an RMS backpack filled with an RMS blanket, mug and other RMS swag!
Early Bird Registration: Anyone that registers on the event site by Friday, April 9 at 3:00 pm will receive a goodie bag with a 16oz RMS Tervis Tumbler and other fun items!
There is no fee to register and participate in the Spring Fling, but there are various ticket options available for purchase. Visit the event site for all information.
Visit the RMS Spring Fling site to register to participate in both auctions, view all available items and join us for the real-time, live auction on Friday, April 23 at 7:00 p.m.
---
SILENT AUCTION
Online Monday, April 19 through Saturday, April 24 at 12:00 p.m.
LIVE AUCTION
Online Friday, April 23 at 7:00 p.m.

Bid on:
Classroom projects

"Buy Now" instant purchase items

Beautiful artwork

Unique experiences

Trip to Mexico

In-home catered dinner for 10
---
FOOD & BEVERAGES
Don't worry about dinner or activities for the kids… Sit back, relax and bid!
RMS is excited to partner with Mosaic Catering and Hardywood Park Craft Brewery to bring meal and beverage options to you to enjoy during the Spring Fling live auction, Friday, April 23 at 7:00 pm.
Meal and beverage pick-up will take place on Friday, April 23 from 2:00 - 4:00 pm in the West End Assembly of God (WEAG) parking lot, 401 N. Parham Road. Stop by before or after carpool. **Activity bags for the kids will be available during meal and beverage pick-up (1 bag per family).
MEALS: Click here for meal options and ordering. **A portion of the proceeds from meals purchased will be donated to RMS.
BEVERAGES: Beverages must be ordered directly from Hardywood and must include "GO RMS!" in the optional note section to ensure proceeds go to RMS. **100% of net proceeds will go to RMS - Thank you, Hardywood!
Instructions to order, with proceeds supporting RMS:

Order here: https://hardywood.square.site/s/shop
Place order between April 14-21
When checking out, select "Store pickup" then choose "Hardywood West Creek" (HOWEVER, PICK-UP WILL TAKE PLACE AT WEAG - SEE ABOVE)
In the final step of checking out, when prompted to "Add an optional note to the seller" enter "GO RMS!" This is how we'll know to include the order along with the pickup, and to contribute net proceeds to RMS.
Questions? Contact: Jill Williams, Director of Advancement, This email address is being protected from spambots. You need JavaScript enabled to view it..