Our middle school students range in age from 12-14 (7th and 8th grades).
View the middle school curriculum outline here.
Middle School is the pinnacle of the Montessori experience. As budding adolescents, students now understand that life extends beyond the classroom and begin to think about their place in society. They have unique needs and we ensure those needs are met by preparing them not only as students, but as global citizens. To facilitate this, we incorporate field studies and service into the curriculum, offering real world opportunities for community involvement. The hands-on participation fosters independence, practical life skills and demonstrates that through hard work, they truly can make a difference.
When our Middle School students graduate, they are passionate, fearless and optimistic about their future. They have learned how to learn and developed a deep respect for themselves, their community and the world at large. As we watch our graduates take charge of their life, it is clear that Montessori has made all the difference. We know they are empowered through self-confidence, motivation and the belief that they can do anything.
Middle School students, as budding adolescents, are just beginning to think about their place in society. These students have unique needs, and the RMS Middle School program is designed to meet these needs with the ultimate goal of all Montessori education: preparation for life. Each day, RMS Middle School teachers work with students to create community that will enhance and encourage the development of each child.
Watch as our middle school students share about their experiences:
---
Overview of Curriculum
At the secondary level, Montessori Middle School takes an integrated, interdisciplinary approach to education. Seventh and eighth grade students are together for all courses except for Spanish and their independent study periods. Technology, public speaking, reading, writing, and study skills are focus areas in every discipline across the Middle School program. Core courses of math, science, English, and history are taught in block classes that meet every day, and teachers coordinate all aspects of the program, including projects and homework.
Field Studies are an integral component of the Middle School curriculum. Every year students participate in two multi-day field studies. Each field study is designed to tie closely to our curriculum, build community among the students and faculty, and foster independence and practical life skills for students. Our Field Studies are funded in large part by the Middle School micro-economy, which sells spirit wear for the school.
---
Where do students go after Middle School?
RMS Middle School students are accepted into a wide variety of high schools but public and private, independent schools, Governor's schools, specialty centers, and IB programs.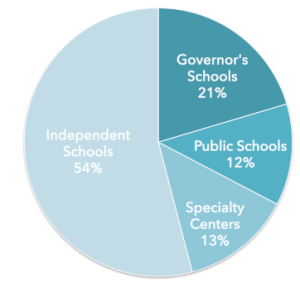 High School Selections:
Appomattox Regional Governor's School
Benedictine High School
Clover Hill High School
Clover Hill High School, Math & Science Center
Collegiate School
Douglas Freeman High School
Douglas Freeman High School, Center for Leadership, Government and Global Economics
Franklin Military Academy
Glen Allen High School, Center for Education and Human Development
Henrico High School, Center for the Arts
Hermitage High School, Center for Humanities
James River High School
James River High School, Center for Leadership and International Relations
JR Tucker High School, International Baccalaureate Program
Maggie L. Walker Governor's School
Midlothian High School
Mills E. Godwin High School
Mills E. Godwin High School, Math & Science Center
Open High School
Saint Gertrude's High School
St. Catherine's School
St. Christopher's School
The Steward School
Trinity Episcopal School, IB Scholarship Program